Great art, of any kind, is a precious gift. I do have many sources of inspiration that I wanted to share here, because there is so much out there.....and its always great to share some of the things I find on my searching.
This section will rotate in new content, and also keep some permanent long lasting inspiration also.
My mother,
Patty Clark
, who started her own journey with art many years ago and has accomplished so much with her mini baby sculptures. She is clever, creative and has a core of integrity for her craft that is admirable and a true inspiration to me!
I really love
Sulamith Wulfing
- she is a genius for her time and she did some truly incredible things with the resources that were available. I think its magical the detail and story she puts into her art: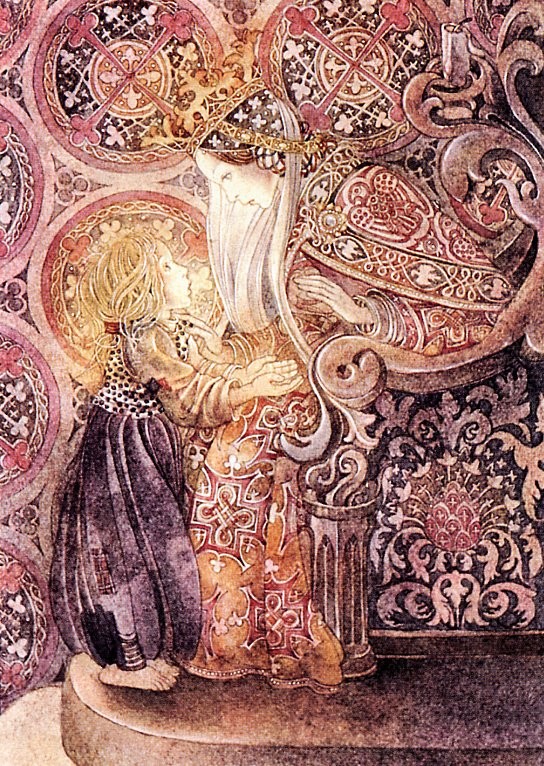 =(o)=|=(o)=|=(o)=
Another source of inspiration to me, is the digital artist
Enayla
who does some truly incredible painting work. Her ideas are very interesting and I love the dark moody emotions she brings to her stories, as well as the whimsy!
=(o)=|=(o)=|=(o)=
I am forever going to be following and drooling and dreaming about the art of May Ann Licudine. Her art is just divine in its imagination, use of color, detail and amazing, stunning talent. I hope one day to catch a gallery showing of her art, I cannot wait to see it in person! I've watched her for several year's now and its just fantastic to see how she is continually evolving.
Her Blog is here:
http://nnayam.blogspot.com/
and a sneak peak of what her art is like:
=(o)=|=(o)=|=(o)=
Of course, the work of Erte is timeless and forever an inspiration - it is pure magic what he does with his lines and details:
=(o)=|=(o)=|=(o)=
I also find inspiration in lectures and ideas, and thrive on learning new things. Here are a few of my most favorite talks that I find a source of creative comfort in:
=(o)=|=(o)=|=(o)=
=(o)=|=(o)=|=(o)=
=(o)=|=(o)=|=(o)=